.



merlin sedang berlangsung. selalu nye it makes i feel good. tapi hari ni x. even one scene pun xbest. each scene make i nak sepak2 je director cter nieyh. haha. xpuas hati banyak bising plak syafira nie.


i entered dapur just now.teguk some strawberry bliss.bosan la. xdek kje ni.berat badan naik.
tinggi pun naik sama. height tak lah kisah sgt.tapi weight tu. fadeup la asyik naik je.
aku ni gembira sangat ke sampai berat bertambah je each time pun.suddnly i miss my school.urm..i mean my ex one! yela2.
tibetibe jumpa picca ni.gambar sekolah.i mean mine.
ada someone cakap bulu mata i macam penyapu.ayoyo! suke hati je.nak kena tumbuk kah?hahaha.
syafira makin lama makin berani. so jangan try nak blame me kalau ada tumbukan hinggap kat pipi mulus korank. haha.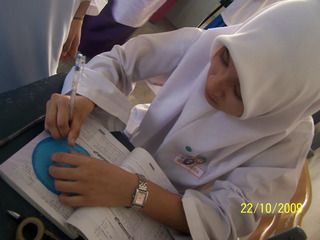 what make i miss puchong high school most

...
one : i miss the moment when i masuk class and curi kerusi nabil. sebab almost everyday my chair akan hilang and kerusi yang paling terbaik ada pada meja nabil. xaci2. selama nieyh yang tau benda ni is.. jeng jeng jeng.. spe2 yang masuk kelas awal la.
two : bila setiap kali perhimpunan pagi. for sure mulut xkan stop mengutuk orang. ada je yang tak kne. seluar orang la. baju orang la. bag orang la. nasib xleh tengok inner orang. kalau x memang dah lama jadi bahan kutukan di pagi hari. wachyasamalu.
three : moment time recess. paling xleh terima. dan paling xleh bla, time ktornk akan rebut meja. ye2. and of course senior win!. yeihhha... :D

and there's alot of thing. macam2 ada. dan kadang2. aku sangat rasa bangga jadi senior 2009. dihormati dengan bagusnye!.
bagus junior2. nothing most exciting than be a senior.! chewah.